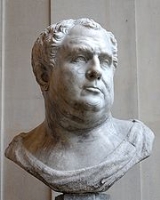 Vitellius
Vitellius , was Roman Emperor for eight months, from 16 April to 22 December 69. Vitellius was acclaimed Emperor following the quick succession of the previous emperors Galba and Otho, in a year of civil war known as the Year of the Four Emperors...
Timeline of Events
69

4.14.69

Vitellius, commander of the Rhine armies, defeats Emperor

Otho

in the Battle of Bedriacum and seizes the throne.

4.17.69

After the First Battle of Bedriacum, Vitellius becomes Roman Emperor.

10.24.69

Second Battle of Bedriacum, forces under Antonius Primus, the commander of the Danube armies, loyal to

Vespasian

, defeat the forces of Emperor Vitellius.

12.22.69

Emperor Vitellius is captured and murdered by the Gemonian stairs in

Rome

.