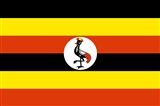 Uganda
Uganda , officially the Republic of Uganda, is a landlocked country in East Africa. Uganda is also known as the "Pearl of Africa". It is bordered on the east by Kenya, on the north by South Sudan, on the west by the Democratic Republic of the Congo, on the southwest by Rwanda, and on the south by Tanzania...
Timeline of Events
1953

11.30.1953

Edward Mutesa II, the ''kabaka'' (king) of Buganda is deposed and exiled to

London

by Sir Andrew Cohen, Governor of Uganda.

1961

3.1.1961

Uganda becomes self-governing and holds its first elections.

1962

1971

1.25.1971

Idi Amin

leads a coup deposing Milton Obote and becomes Uganda's president.

1976

7.4.1976

Israeli commandos

raid Entebbe airport in Uganda, rescuing all but four of the passengers and crew of an

Air France

jetliner seized by Palestinian terrorists.

1979

4.11.1979

1986

1.25.1986

The National Resistance Movement topples the government of Tito Okello in Uganda.

2000

3.17.2000

More than 800 members of the Ugandan cult Movement for the Restoration of the Ten Commandments of God die in what is considered to be a mass murder and suicide orchestrated by leaders of the cult.