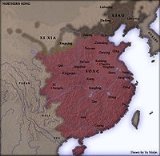 Song Dynasty
The Song Dynasty was a ruling dynasty in China between 960 and 1279; it succeeded the Five Dynasties and Ten Kingdoms Period, and was followed by the Yuan Dynasty. It was the first government in world history to issue banknotes or paper money, and the first Chinese government to establish a permanent standing navy...
Timeline of Events
960

2.4.960

The coronation of Zhao Kuangyin as Emperor Taizu of Song, initiating the Song Dynasty period of China that would last more than three centuries.

971

1.23.971

In China, the war elephant corps of the Southern Han are soundly defeated at Shao by crossbow fire from Song Dynasty troops.

1054

7.4.1054

A supernova is observed by the

Chinese

, the Arabs and possibly

Amerindians

near the star Tauri. For several months it remains bright enough to be seen during the day. Its remnants form the Crab Nebula.

1142

1.27.1142

Execution, believed wrongful, of noted Song Dynasty General Yue Fei.

1276

6.14.1276

While taking exile in Fuzhou in southern China, away from the advancing Mongol invaders, the remnants of the Song Dynasty court hold the coronation ceremony for the young prince Zhao Shi, making him Emperor Duanzong of Song.

1279

3.19.1279

A Mongolian victory in the Battle of Yamen ends the Song Dynasty in China.