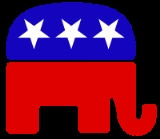 Republican Party (United States)
The Republican Party is one of the two major contemporary political parties in the United States, along with the Democratic Party. Founded by anti-slavery expansion activists in 1854, it is often called the GOP . The party's platform generally reflects American conservatism in the U.S...
Timeline of Events
1854

1860

1866

7.30.1866

New Orleans's Democratic government orders police to raid an integrated

Republican Party

meeting, killing 40 people and injuring 150.

1870

1874

1920

6.11.1920

During the U.S. Republican National Convention in

Chicago

,

U.S. Republican Party

leaders gathered in a room at the Blackstone Hotel to come to a consensus on their candidate for the U.S. presidential election, leading the

Associated Press

to first coin the political phrase "smoke-filled room".

1953

2003

5.12.2003

Fifty-nine

Democratic

lawmakers bring the Texas Legislature to a standstill by going into hiding in a dispute over a

Republican

congressional redistricting plan.