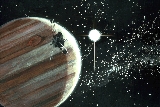 Pioneer 10
Pioneer 10 is a 258-kilogram robotic space probe that completed the first interplanetary mission to Jupiter, and became the first spacecraft to achieve escape velocity from the Solar System. The project was managed by the NASA Ames Research Center and the contract for the construction of the spacecraft was awarded to TRW Inc...
Timeline of Events
1972

1973

12.3.1973

Pioneer program: Pioneer 10 sends back the first close-up images of

Jupiter

.

1983

6.13.1983

''Pioneer 10'' becomes the first man-made object to leave the

solar system

.

2002

4.27.2002

The last successful telemetry from the

NASA

space probe Pioneer 10.

2003

1.23.2003

Final communication between Earth and Pioneer 10

2006

3.4.2006

No response is received in the final attempt to contact Pioneer 10 by the Deep Space Network.