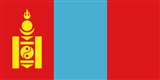 Mongolia
Mongolia is a landlocked country in East and Central Asia. It is bordered by Russia to the north and China to the south, east and west. Although Mongolia does not share a border with Kazakhstan, its western-most point is only from Kazakhstan's eastern tip. Ulan Bator, the capital and largest city, is home to about 45% of the population...
Timeline of Events
1229

9.13.1229

Ögedei Khan was proclaimed Qaghan of the

Mongol Empire

in Kodoe Aral, Khentii: Mongolia.

1271

12.18.1271

Kublai Khan

renames his empire "Yuan" (元 yuán), officially marking the start of the

Yuan Dynasty

of Mongolia and China.

1287

6.14.1287

Kublai Khan

defeated the force of Nayan and other traditionalist Borjigin princes in East Mongolia and

Manchuria

.

1911

12.29.1911

1921

3.13.1921

Mongolia, under Baron Roman Ungern von Sternberg, declares its independence from China.

7.11.1921

The

Red Army

captures Mongolia from the White Army and establishes the Mongolian People's Republic.

1971

9.13.1971

People's Republic of China

: Chairman

Mao Zedong

's second in command and successor Marshal Lin Biao flees the country via plane after the failure of alleged coup against Mao. The plane crashes in Mongolia, killing all aboard.

1989

12.10.1989

Tsakhiagiin Elbegdorj announces the establishment of Mongolia's democratic movement that changes the second oldest communist country into a democracy.

1993

6.6.1993

Mongolia holds its first direct presidential

election

s.

1997

3.9.1997

Comet Hale-Bopp

: Observers in China, Mongolia and eastern

Siberia

are treated to a rare double feature as an eclipse permits Hale-Bopp to be seen during the day.

2001

12.19.2001

A record high barometric pressure of 1085.6 hPa (32.06 inHg) is recorded at Tosontsengel, Khövsgöl Province, Mongolia.