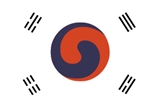 Korea
Korea ) is an East Asian geographic region that is currently divided into two separate sovereign states — North Korea and South Korea. Located on the Korean Peninsula, Korea is bordered by the People's Republic of China to the northwest, Russia to the northeast, and is separated from Japan to the east by the Korea Strait and the Sea of Japan , and separated from the Republic...
Timeline of Events
1446

10.9.1446

The hangul alphabet is published in Korea.

1871

6.10.1871

Sinmiyangyo: Captain McLane Tilton leads 109 U.S. Marines in a naval attack on Han River forts on Kanghwa Island, Korea.

1894

8.1.1894

The First Sino-Japanese War erupts between

Japan

and China over Korea.

1895

4.17.1895

The Treaty of Shimonoseki between China and

Japan

is signed. This marks the end of the

First Sino-Japanese War

, and the defeated Qing Empire is forced to renounce its claims on Korea and to concede the southern portion of the Fengtien province,

Taiwan

and the Pescadores Islands to

Japan

.

10.8.1895

Eulmi incident- Queen Min of Joseon, the last empress of Korea, is assassinated and her corpse burnt by the Japanese in Gyeongbok Palace.

1904

1905

11.17.1905

The Eulsa Treaty is signed between

Japan

and Korea.

1907

1908

3.23.1908

American diplomat Durham Stevens is attacked by Korean assassins Jeon Myeong-un and Jang In-hwan, leading to his death in a hospital two days later.

1910

8.22.1910

Korea was annexed by

Japan

with the signing of the Japan–Korea Annexation Treaty, beginning a period of Japanese rule of Korea that lasted until the end of World War II.

1919

3.1.1919

March 1st Movement begins in Korea.

1945

8.15.1945

World War II: Korean Liberation Day.

1951

4.11.1951

Korean War

: President Harry Truman relieves

General

Douglas MacArthur of overall command in Korea.

1952

1954

4.26.1954

The Geneva Conference, an effort to restore peace in Indochina and Korea, begins.

1976

8.21.1976

Operation Paul Bunyan at Panmunjeom, Korea.

1992

1.13.1992

Japan

apologizes for forcing Korean women into sexual slavery (Comfort women) during

World War II

.

2000

6.13.2000

President Kim Dae Jung of

South Korea

meets Kim Jong-il, leader of

North Korea

, for the beginning of the first ever inter-Korea summit, in the northern capital of Pyongyang.