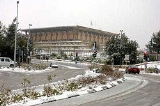 Knesset
The Knesset is the unicameral legislature of Israel, located in Givat Ram, Jerusalem.-Role in Israeli Government :The legislative branch of the Israeli government, the Knesset passes all laws, elects the President and Prime Minister , approves the cabinet, and supervises the work of the government...
Timeline of Events
1949

2.14.1949

The Knesset (

Israel

i parliament) convenes for the first time.

1950

7.5.1950

Zionism: the Knesset passes the Law of Return which grants all Jews the right to immigrate to

Israel

.

1957

10.29.1957

Israel

's prime minister David Ben Gurion and five of his ministers are injured when a hand grenade is tossed into Israel's parliament, the Knesset.

1977

1980

7.30.1980

Israel's

Knesset passes the Jerusalem Law

1981

12.14.1981

Arab-Israeli conflict:

Israel

's Knesset passes ''The Golan Heights Law'', extending Israeli law to the area of the Golan Heights.