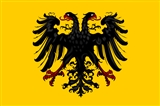 Holy Roman Empire
The Holy Roman Empire was a realm that existed from 962 to 1806 in Central Europe.It was ruled by the Holy Roman Emperor. Its character changed during the Middle Ages and the Early Modern period, when the power of the emperor gradually weakened in favour of the princes...
Timeline of Events
1209

1346

7.11.1346

Charles IV of

Luxembourg

is elected emperor of the Holy Roman Empire.

1519

6.28.1519

Charles V

is elected Emperor of the Holy Roman Empire.

1555

4.17.1555

After 18 months of siege,

Siena

surrenders to the

Florentine

-

Imperial

army. The Republic of Siena is incorporated into the Grand Duchy of Tuscany.

1619

8.28.1619

Ferdinand II is elected

emperor

of the Holy Roman Empire.

1631

5.20.1631

The city of Magdeburg in

Germany

is seized by forces of the Holy Roman Empire and most of its inhabitants massacred, in one of the bloodiest incidents of the

Thirty Years' War

.

1632

1636

10.4.1636

The Swedish Army defeats the armies of

Saxony

and the Holy Roman Empire at the Battle of Wittstock.

1645

8.3.1645

1697

9.20.1697

The Treaty of Rijswijk is signed by France,

England

,

Spain

, the Holy Roman Empire and the

Dutch Republic

ending the Nine Years' War (1688–97).

1719

1757

1806

7.12.1806

Sixteen

German

imperial states leave the Holy Roman Empire and form the Confederation of the Rhine.