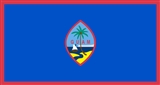 Guam
Guam is an organized, unincorporated territory of the United States located in the western Pacific Ocean. It is one of five U.S. territories with an established civilian government. Guam is listed as one of 16 Non-Self-Governing Territories by the Special Committee on Decolonization of the United Nations. The island's capital is Hagåtña...
Timeline of Events
1521

1944

1950

5.1.1950

Guam is organized as a United States commonwealth.

1972

1.24.1972

Japan

ese Sgt. Shoichi Yokoi is found hiding in a Guam jungle, where he had been since the end of World War II.

1997

8.6.1997

Korean Air Flight 801, a

Boeing 747

-300, crashes into the jungle on Guam on approach to airport, killing 228.

2008

2.23.2008

A United States Air Force

B-2 Spirit

crashes on Guam. It is the first operational loss of a B-2.