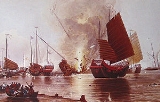 First Opium War
The First Anglo-Chinese War , known popularly as the First Opium War or simply the Opium War, was fought between the United Kingdom and the Qing Dynasty of China over their conflicting viewpoints on diplomatic relations, trade, and the administration of justice...
Timeline of Events
1839

6.3.1839

In Humen, China, Lin Tse-hsü destroys 1.2 million kg of opium confiscated from British merchants, providing Britain with a ''casus belli'' to open hostilities, resulting in the First Opium War.

8.23.1839

9.5.1839

The First Opium War begins in China.

1842

8.29.1842

Treaty of Nanking signing ends the First Opium War.