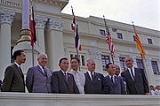 Ferdinand Marcos
Ferdinand Emmanuel Edralin Marcos, Sr. was a Filipino leader and an authoritarian President of the Philippines from 1965 to 1986. He was a lawyer, member of the Philippine House of Representatives and a member of the Philippine Senate...
Timeline of Events
1965

11.28.1965

Vietnam War: In response to U.S. President Lyndon B. Johnson's call for "more flags" in

Vietnam

,

Philippines

President Elect Ferdinand Marcos announces he will send troops to help fight in

South Vietnam

.

1971

8.21.1971

A bomb exploded in the Liberal Party campaign rally in Plaza Miranda,

Manila

,

Philippines

with several anti-

Marcos

political candidates injured.

1972

1973

1.17.1973

Ferdinand Marcos becomes "President for Life" of the

Philippines

.

1984

11.14.1984

Zamboanga City mayor Cesar Climaco, a prominent critic of the government of

Philippine President

Ferdinand Marcos, is assassinated in his home city.

1986

2.25.1986

People Power Revolution:

President

Ferdinand Marcos of the

Philippines

flees the nation after 20 years of rule; Corazon Aquino becomes the first

Filipino

woman president.

1990

3.20.1990

Ferdinand Marcos's widow, Imelda Marcos, goes on trial for bribery, embezzlement, and racketeering.