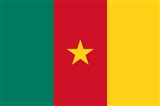 Cameroon
Cameroon, officially the Republic of Cameroon , is a country in west Central Africa. It is bordered by Nigeria to the west; Chad to the northeast; the Central African Republic to the east; and Equatorial Guinea, Gabon, and the Republic of the Congo to the south. Cameroon's coastline lies on the Bight of Bonny, part of the Gulf of Guinea and the Atlantic Ocean...
Timeline of Events
1884

7.5.1884

Germany

takes possession of Cameroon.

1916

1960

1961

1984

4.6.1984

Members of Cameroon's Republican Guard unsuccessfully attempt to overthrow the

government

headed by Paul Biya.

1986

8.21.1986

Carbon dioxide gas erupts from

volcanic

Lake Nyos in Cameroon, killing up to 1,800 people within a 20-kilometer range.

2007

5.5.2007

Kenya Airways Flight KQ 507 crashes in Cameroon.