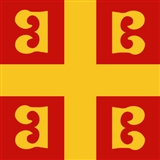 Byzantine Empire
The Byzantine Empire was the Eastern Roman Empire during the periods of Late Antiquity and the Middle Ages, centred on the capital of Constantinople. Known simply as the Roman Empire or Romania to its inhabitants and neighbours, the Empire was the direct continuation of the Ancient Roman State...
Timeline of Events
457

2.7.457

Leo I becomes emperor of the Byzantine Empire.

474

2.9.474

Zeno crowned as co-emperor of the Byzantine Empire.

527

8.1.527

Justinian I

becomes the sole ruler of the Byzantine Empire.

533

535

536

12.9.536

Byzantine

General

Belisarius

enters Rome while the Ostrogothic garrison peacefully leaves the city, returning the old capital to its empire.

610

627

636

681

811

7.26.811

Battle of Pliska:

Byzantine Emperor

Nicephorus I is killed and his heir Stauracius is seriously wounded.

863

9.3.863

Major

Byzantine

victory at the Battle of Lalakaon against an Arab raid.

917

8.20.917

Battle of Acheloos: Tsar Simeon I of Bulgaria decisively defeats a

Byzantine

army.

969

994

9.15.994

Major

Fatimid

victory over the Byzantine Empire at the Battle of the Orontes.

1041

12.10.1041

Empress Zoe of Byzantium elevates her adopted son to the throne of the

Eastern Roman Empire

as Michael V.

1055

1.11.1055

Theodora is crowned Empress of the Byzantine Empire.

1071

1081

10.18.1081

The Normans defeat the Byzantine Empire in the Battle of Dyrrhachium.

1180

9.24.1180

Manuel I Komnenos, last Emperor of the Komnenian restoration dies. The Byzantine Empire slips into terminal decline.

1185

9.11.1185

Isaac II Angelus kills Stephanus Hagiochristophorites and then appeals to the people, resulting in the revolt that deposes Andronicus I Comnenus and places Isaac on the throne of the Byzantine Empire.

1261

7.25.1261

The city of

Constantinople

is recaptured by

Nicaean

forces under the command of Alexios Strategopoulos, re-establishing the Byzantine Empire.

1302

7.27.1302

Battle of Bapheus: decisive

Ottoman

victory over the

Byzantines

opening up Bithynia for Turkish conquest.

1345

6.11.1345

The ''megas doux'' Alexios Apokaukos, chief minister of the Byzantine Empire, is lynched by political prisoners.

1453

4.20.1453

The last naval battle in

Byzantine

history occurs, as three Genoese galleys escorting a Byzantine transport fight their way through the huge Ottoman blockade fleet and into the Golden Horn.

5.29.1453

Fall of Constantinople:

Ottoman

armies under

Sultan Mehmed II

Fatih capture

Constantinople

after a 53-day

siege

, ending the Byzantine Empire. Although the date of May 29, 1453 is that of the

Julian Calendar

, the event is commemorated in Istanbul on this day of the present Gregorian calendar.

1461

8.15.1461

The Empire of Trebizond surrenders to the forces of Sultan Mehmet II. This is regarded by some historians as the real end of the Byzantine Empire. Emperor David is exiled and later murdered.