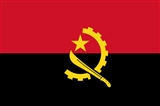 Angola
Angola, officially the Republic of Angola , is a country in south-central Africa bordered by Namibia on the south, the Democratic Republic of the Congo on the north, and Zambia on the east; its west coast is on the Atlantic Ocean with Luanda as its capital city...
Timeline of Events
1575

1.25.1575

Luanda, the capital of Angola was founded by the Portuguese navigator Paulo Dias de Novais.

1976

6.28.1976

The Angolan court sentenced US and UK mercenaries to death sentences and

prison

terms in the Luanda Trial.

7.10.1976

One American and three British mercenaries are executed in Angola following the Luanda Trial.

1991

4.10.1991

A rare

tropical storm

develops in the South Atlantic Ocean near Angola; the first to be documented by satellites.

5.31.1991

Bicesse Accords in Angola lay out a transition to multi-party

democracy

under the supervision of the

United Nations

' UNAVEM II mission.

1993

12.4.1993

A truce is concluded between the government of Angola and

UNITA

rebels.

1994

2000

10.31.2000

A chartered Antonov An-26 explodes after takeoff in Northern Angola killing 50.

11.15.2000

A chartered

Antonov An-24

crashes after takeoff from Luanda, Angola killing more than 40 people.

2002

2.22.2002

Angolan political and rebel leader Jonas Savimbi is killed in a military ambush.

4.4.2002

The Angolan government and

UNITA

rebels sign a peace treaty ending the Angolan Civil War.