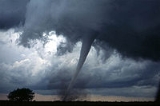 Tornado
A tornado is a violent, dangerous, rotating column of air that is in contact with both the surface of the earth and a cumulonimbus cloud or, in rare cases, the base of a cumulus cloud. They are often referred to as a twister or a cyclone, although the word cyclone is used in meteorology in a wider sense, to name any closed low pressure circulation...
Timeline of Events
1680

1840

1880

4.18.1880

An

F4

tornado strikes Marshfield, Missouri, killing 99 people and injuring 100.

1893

7.6.1893

The small town of Pomeroy, Iowa, is nearly destroyed by a tornado that kills 71 people and injures 200.

1899

6.12.1899

New Richmond Tornado: the eighth deadliest tornado in U.S. history kills 117 people and injures around 200.

1926

11.25.1926

The deadliest November tornado outbreak in U.S. history strikes on Thanksgiving day. 27 twisters of great strength are reported in the Midwest, including the strongest November tornado, an estimated F4, that devastates Heber Springs, Arkansas. There are 51 deaths in

Arkansas

alone, 76 deaths and over 400 injuries in all.

1948

3.25.1948

The first successful tornado forecast predicts that a tornado will strike Tinker Air Force Base,

Oklahoma

.

1953

4.30.1953

In Warner Robins, Georgia, an

F4

tornado kills 18 people.

6.8.1953

Flint-Worcester tornado outbreak sequence: A tornado hits

Flint, Michigan

, and kills 115. This is the last tornado to claim more than 100 lives.

1955

5.25.1955

In the United States, a night time

F5

tornado strikes the small city of Udall, Kansas, killing 80 and injuring 273. It is the deadliest tornado to ever occur in the state and the 23rd deadliest in the U.S.

1986

1987

7.31.1987

A rare, class F4 tornado rips through Edmonton, Alberta, killing 27 people and causing $330 million in damage.

1996

1998

3.24.1998

A tornado sweeps through Dantan in

India

killing 250 people and injuring 3000 others.

1999

7.5.1999

Wolverhampton,

England

is hit by storms which include a tornado. The area is hit again with severe storms on August 1.

2004

5.22.2004

The U.S. town of Hallam,

Nebraska

, is wiped out by a powerful F4 tornado (part of the May 2004 tornado outbreak sequence) that broke a width record at an astounding convert 2.5 wide, which kills one resident.

2006

4.2.2006

Over 60 tornadoes break out; hardest hit is in

Tennessee

with 29 people killed.

2007

3.1.2007

5.4.2007

Greensburg, Kansas is almost completely destroyed by a 1.7mi wide EF-5 tornado.

8.8.2007

An EF2 tornado touches down in Kings County and Richmond County, New York State, the most powerful tornado in New York to date and the first in Brooklyn since 1889.

2008

5.22.2008

The Late-May 2008 tornado outbreak sequence unleashes 235 tornadoes, including an EF4 and an EF5 tornado, between 22 May and 31 May 2008. The tornadoes struck 19 states and one Canadian province.