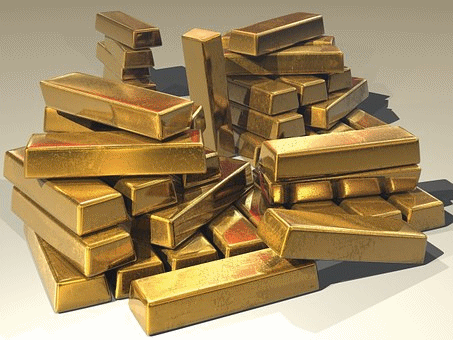 Gold
Gold is a chemical element with the symbol Au and an atomic number of 79. Gold is a dense, soft, shiny, malleable and ductile metal. Pure gold has a bright yellow color and luster traditionally considered attractive, which it maintains without oxidizing in air or water. Chemically, gold is a transition metal and a group 11 element...
Timeline of Events
631

6.11.631

Emperor Taizong of Tang

, the

Emperor of China

, sends envoys to the Xueyantuo bearing gold and silk in order to seek the release of enslaved Chinese prisoners captured during the transition from Sui to Tang from the northern frontier; this embassy succeeded in freeing 80,000 Chinese men and women who were then returned to China.

1539

1848

12.5.1848

California Gold Rush

: In a message before the U.S. Congress, US President James K. Polk confirms that large amounts of gold had been discovered in

California

.

1849

3.3.1849

The U.S. Congress passes the Gold Coinage Act allowing the minting of gold coins.

1864

10.30.1864

Helena, Montana is founded after four prospectors discover gold at "Last Chance Gulch".

1869

9.24.1869

"Black Friday": Gold prices plummet after

Ulysses S. Grant

orders the Treasury to sell large quantities of gold after Jay Gould and James Fisk plot to control the market.

1926

1933

6.5.1933

The U.S. Congress abrogates the United States' use of the

gold standard

by enacting a joint resolution (48 Stat. 112) nullifying the right of creditors to demand payment in gold.

1938

7.31.1938

Archaeologists discover engraved gold and

silver

plates from King Darius in Persepolis.

1968

3.18.1968

Gold standard

: The U.S. Congress repeals the requirement for a gold reserve to back US currency.

1983

11.26.1983

Brink's-MAT robbery: In

London

, 6,800 gold bars worth nearly £26 million are stolen from the Brink's-MAT vault at Heathrow Airport.

2008

3.13.2008

Gold prices on the New York Mercantile Exchange hit $1,000 per ounce for the first time.