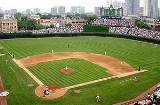 Baseball
Baseball is a bat-and-ball sport played between two teams of nine players each. The aim is to score runs by hitting a thrown ball with a bat and touching a series of four bases arranged at the corners of a ninety-foot diamond...
Timeline of Events
1845

9.23.1845

The Knickerbockers Baseball Club, the first baseball team to play under the modern rules, is founded in

New York

.

1892

1903

10.1.1903

Baseball: The Boston Americans play the Pittsburgh Pirates in the first game of the modern

World Series

.

1904

1912

1921

10.5.1921

Baseball: The

World Series

is broadcast on the radio for the first time.

1929

1930

4.28.1930

The first night game in organized baseball history takes place in Independence, Kansas.

1939

7.4.1939

Lou Gehrig

, recently diagnosed with Amyotrophic lateral sclerosis, tells a crowd at Yankee Stadium that he considers himself "The luckiest man on the face of the earth" as he announces his retirement from major league baseball.

1944

6.10.1944

In baseball, 15-year old Joe Nuxhall of the

Cincinnati Reds

becomes the youngest player ever in a major-league game.

1945

10.6.1945

Baseball: Billy Sianis and his pet billy goat are ejected from

Wrigley Field

during Game 4 of the 1945 World Series (see Curse of the Billy Goat).

1952

2.20.1952

Emmett Ashford becomes the first African-American umpire in organized baseball by being authorized to be a substitute umpire in the Southwestern International League.

1961

5.9.1961

Jim Gentile of the

Baltimore Orioles

becomes the first player in baseball history to hit grand slams in consecutive innings.

7.31.1961

At

Fenway Park

in Boston, Massachusetts, the first All-Star Game tie in major league baseball history occurs when the game is stopped in the 9th inning because of rain.

1965

4.9.1965

Astrodome opens. First indoor baseball game is played.

1975

1981

1982

4.21.1982

Baseball: Rollie Fingers of the Milwaukee Brewers becomes the first

pitcher

to record 300 saves.

1989

3.21.1989

''Sports Illustrated'' reports allegations tying baseball player Pete Rose to baseball gambling.

3.21.1989

''Sports Illustrated'' reports allegations tying baseball player Pete Rose to baseball gambling.

8.24.1989

Cincinnati Reds

manager Pete Rose is banned from baseball for gambling by Commissioner A. Bartlett Giamatti.

2007

8.7.2007

Barry Bonds of the San Francisco Giants breaks baseball great Hank Aaron's record by hitting his 756th

home run

.