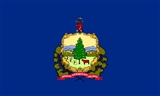 Vermont
Vermont is a state in the New England region of the northeastern United States of America. The state ranks 43rd in land area, , and 45th in total area. Its population according to the 2010 census, 630,337, is the second smallest in the country, larger only than Wyoming. It is the only New England state not bordering the Atlantic Ocean...
Timeline of Events
1749

1.3.1749

Benning Wentworth issues the first of the

New Hampshire Grants

, leading to the establishment of Vermont.

1777

1.16.1777

Vermont declares its independence from

New York

.

7.2.1777

Vermont becomes the first

American

territory to abolish slavery.

1791

3.4.1791

1819

8.6.1819

Norwich University is founded in Vermont as the first private military school in the

United States

.

1934

1.28.1934

The first ski tow in the United States begins operation in Vermont.