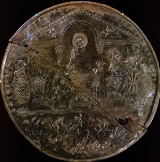 Theodosius I
Theodosius I , also known as Theodosius the Great, was Roman Emperor from 379 to 395. Theodosius was the last emperor to rule over both the eastern and the western halves of the Roman Empire. During his reign, the Goths secured control of Illyricum after the Gothic War, establishing their homeland south of the Danube within the empire's borders...
Timeline of Events
380

11.24.380

Theodosius I makes his ''adventus'', or formal entry, into

Constantinople

.

393

1.23.393

Roman Emperor

Theodosius I proclaims his nine year old son Honorius co-emperor.

394

1896

4.6.1896

In

Athens

, the opening of the first modern Olympic Games is celebrated, 1,500 years after the original games are banned by Roman Emperor Theodosius I.