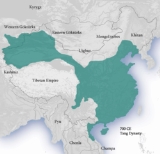 Tang Dynasty
The Tang Dynasty was an imperial dynasty of China preceded by the Sui Dynasty and followed by the Five Dynasties and Ten Kingdoms Period. It was founded by the Li family, who seized power during the decline and collapse of the Sui Empire...
Timeline of Events
618

6.18.618

Li Yuan becomes Emperor Gaozu of Tang, initiating three centuries of Tang Dynasty rule over China.

626

9.4.626

755

12.16.755

An Lushan revolts against Chancellor Yang Guozhong at Fanyang, initiating the An Shi Rebellion during the Tang Dynasty of China.

762

11.20.762

During An Shi Rebellion, Tang Dynasty, with the help of Huihe tribe, recaptured Luoyang from the rebels.

764

11.12.764

Tibet

an troops occupy Chang'an, the capital of the Chinese Tang Dynasty, for fifteen days.