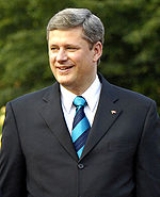 Stephen Harper
Stephen Joseph Harper is the 22nd and current Prime Minister of Canada and leader of the Conservative Party. Harper became prime minister when his party formed a minority government after the 2006 federal election...
Timeline of Events
2004

3.20.2004

Stephen Harper wins the leadership of the newly created Conservative Party of Canada, becoming the party's first leader.

2006

2008

6.11.2008

Canadian Prime Minister Stephen Harper makes an historic official apology to Canada's

First Nations

in regard to a residential school abuse in which children are isolated from their homes, families and cultures for a century.