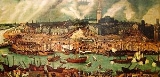 Seville
Seville is the artistic, historic, cultural, and financial capital of southern Spain. It is the capital of the autonomous community of Andalusia and of the province of Seville. It is situated on the plain of the River Guadalquivir, with an average elevation of above sea level...
Timeline of Events
1248

11.23.1248

Conquest of Seville by the Christian troops under King Ferdinand III of Castile.

1519

8.10.1519

Ferdinand Magellan

's five ships set sail from Seville to circumnavigate the globe. The Basque second in command Sebastian Elcano will complete the expedition after Magellan's death in the

Philippines

.

1986

5.16.1986

The Seville Statement on Violence is adopted by an international meeting of scientists, convened by the Spanish National Commission for

UNESCO

, in Seville, Spain.