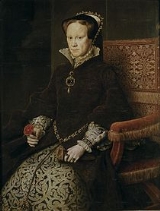 Mary I of England
Mary I was queen regnant of England and Ireland from July 1553 until her death.She was the only surviving child born of the ill-fated marriage of Henry VIII and his first wife Catherine of Aragon. Her younger half-brother, Edward VI, succeeded Henry in 1547...
Timeline of Events
1553

7.19.1553

Lady Jane Grey is replaced by Mary I of England as

Queen of England

after only nine days of reign.

10.1.1553

Coronation of Queen Mary I of England

1558

11.17.1558

Elizabethan era begins: Queen Mary I of England dies and is succeeded by her half-sister

Elizabeth I of England

.