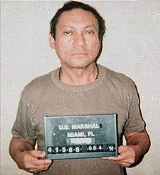 Manuel Noriega
Manuel Antonio Noriega Moreno is a Panamanian politician and soldier. He was military dictator of Panama from 1983 to 1989.The 1989 invasion of Panama by the United States removed him from power; he was captured, detained as a prisoner of war, and flown to the United States. Noriega was tried on eight counts of drug trafficking, racketeering, and money laundering in April 1992...
Timeline of Events
1988

2.5.1988

Manuel Noriega is indicted on drug smuggling and money laundering charges.

1989

12.20.1989

United States invasion of Panama: The

United States

sends troops into

Panama

to overthrow government of Manuel Noriega.

1990

1.3.1990

Former leader of

Panama

Manuel Noriega surrenders to American forces.

1991

9.16.1991

1992

7.10.1992

In

Miami, Florida

, former Panamanian leader Manuel Noriega is sentenced to 40 years in prison for drug and racketeering violations.