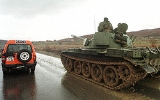 Kosovo War
The term Kosovo War or Kosovo conflict was two sequential, and at times parallel, armed conflicts in Kosovo province, then part of FR Yugoslav Republic of Serbia; from early 1998 to 1999, there was an armed conflict initiated by the ethnic Albanian "Kosovo Liberation Army" , who sought independence , against the Serbian police and Yugoslav...
Timeline of Events
1998

1999

3.24.1999

Kosovo War:

NATO

commences air bombardment against Yugoslavia, marking the first time NATO has attacked a sovereign country.

3.27.1999

An F-117 Nighthawk is shot down during the Kosovo War.

6.9.1999

Kosovo War: the Federal Republic of Yugoslavia and NATO sign a

peace treaty

.

6.12.1999

Kosovo War: Operation Joint Guardian begins when a

NATO

-led

United Nations

peacekeeping force (KFor) enters the province of

Kosovo

in Federal Republic of Yugoslavia.