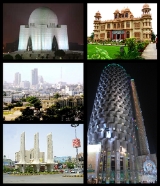 Karachi
Karachi is the largest city, main seaport and the main financial centre of Pakistan, as well as the capital of the province of Sindh. The city has an estimated population of 13 to 15 million, while the total metropolitan area has a population of over 18 million...
Timeline of Events
1887

7.4.1887

The founder of

Pakistan

, Quaid-i-Azam Muhammad Ali Jinnah, joins Sindh-Madrasa-tul-Islam, Karachi.

1947

8.15.1947

Founder of

Pakistan

, Muhammad Ali Jinnah is sworn in as first Governor General of Pakistan in Karachi.

1953

1966

2.12.1966

Sheikh Mujibur Rahman, announces the ''Six Points'' in Karachi as the election manifesto of Awami League, that later led to formation of

Bangladesh

.

1971

12.4.1971

The Indian Navy attacks the Pakistan Navy and Karachi.

1976

2002

2007

5.12.2007

Riots in which over 50 people are killed and over 100 are injured take place in Karachi upon the arrival in town of the

Chief Justice

of

Pakistan

Iftikhar Muhammad Chaudhry.