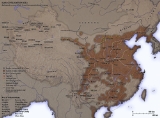 Han Dynasty
The Han Dynasty was the second imperial dynasty of China, preceded by the Qin Dynasty and succeeded by the Three Kingdoms . It was founded by the rebel leader Liu Bang, known posthumously as Emperor Gaozu of Han. It was briefly interrupted by the Xin Dynasty of the former regent Wang Mang...
Timeline of Events
202BC

2.28.202 BC

coronation ceremony of Liu Bang as Emperor Gaozu of Han takes place, initiating four centuries of the Han Dynasty's rule over China

141BC

3.9.141 BC

Liu Che, posthumously known as Emperor Wu of Han, assumes the throne over the Han Dynasty of China.

221

3.15.221

Liu Bei, a Chinese warlord and member of the Han royal house, declares himself

emperor

of Shu-Han and claims his legitimate succession to the Han Dynasty.