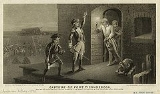 Ethan Allen
Ethan Allen was a farmer, businessman, land speculator, philosopher, writer, and American Revolutionary War patriot, hero, and politician. He is best known as one of the founders of the U.S...
Timeline of Events
1775

9.25.1775

Ethan Allen surrenders to British forces after attempting to capture Montreal during the Battle of Longue-Pointe. At the same time,

Benedict Arnold

and his expeditionary company set off from Fort Western, bound for Quebec City (Invasion of Canada (1775)).

11.13.1775

American Revolutionary War

: Patriot revolutionary forces under Col. Ethan Allen attack Montreal, Quebec, defended by British General Guy Carleton.