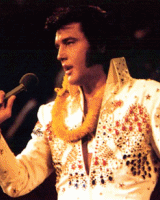 Elvis Presley
Elvis Aaron Presley was one of the most popular American singers of the 20th century. A cultural icon, he is widely known by the single name Elvis. He is often referred to as the "King of Rock and Roll" or simply "the King"....
Timeline of Events
1954

7.5.1954

Elvis Presley records That's All Right, his first single to be released.

7.7.1954

Elvis Presley made his radio debut when WHBQ Memphis played his first recording for Sun Records, "That's All Right."

1956

6.5.1956

Elvis Presley introduces his new single, "Hound Dog", on ''The Milton Berle Show'', scandalizing the audience with his suggestive hip movements.

1958

3.24.1958

Entertainer Elvis Presley is conscripted into the U.S. Army.

1982

6.7.1982

Priscilla Presley opens Graceland to the public; the bathroom where Elvis Presley died five years earlier is kept off-limits.

1986

1.23.1986

The Rock and Roll Hall of Fame inducts its first members: Little Richard, Chuck Berry, James Brown, Ray Charles, Fats Domino, the Everly Brothers, Buddy Holly, Jerry Lee Lewis and Elvis Presley.