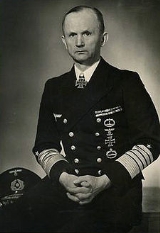 Karl Dönitz
Karl Dönitz was a German naval commander during World War II. He started his career in the German Navy during World War I. In 1918, while he was in command of , the submarine was sunk by British forces and Dönitz was taken prisoner...
Timeline of Events
1945

1.23.1945

World War II: Karl Dönitz launches Operation Hannibal.

4.29.1945

World War II – Fuehrerbunker:

Adolf Hitler

marries his long-time partner Eva Braun in a

Berlin

bunker and designates

Admiral

Karl Dönitz as his successor. Both Hitler and Braun will commit

suicide

the next day.